SOLAR BUS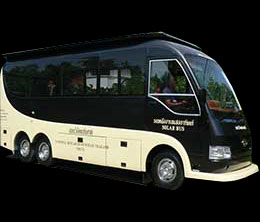 Design for City Transportation Without Pollution
Solar bus size 20 seat mini bus solar cell.C-FEE joint with National Research Council of Thailand. We use D.C.motor series wound type .For normal area 11.4 HP and increase to 34.2 for slope area and when change to drive motor can increase to 68.4 HP that mean more efficecy to drive all of condition.
Download Specifications (PDF-586KB)
FeatureD
20 Seats
Air Condition 18,000 BTU
Sound System Radio
LCD TV 32 Inch
Solar Cell Roof Rack
Solar Cell 1.2 KW(1,200 Watts)
Classic Comfortable Chair
One Year Warranty (Term Condition)
Technical Specifications
Mini BUS solar cell design in thailand. C-FEE research and developement joint with NRCT "direct coupling" working conceptual.
Size

[ 2.0 m x 6.0 m x 2.8 m (Width x Long x Height) ]

Weight

[ 2 TON ]

Load

[ 1.5 TON ( Total Weight 3.5 TON) ]

Motor

[ D.C.Motor, 48V, 2 sets, 11.4HP Per Set (Increase speed/Slope 34.2HP) Total 22.8HP(Increase speed/Slope 68.4HP) ]

Controller

[ 575 Amp.Peak ]

Battery

[ 3 set (8 e.a.) 6V =48V/225AH ]

Charger

[ 60 Volts 10 AH. ]

Solar Cell

[ 2 Sets Avaiable to charge 600 Watts /10 x Photovoltaics module ]

Brake

[ 6 Wheels ]

Steering

[ Power Steering ]

Range

[ 60 Km (Bangkok Area) ]

Solar Bus
20 x Seats / 2 x Sets Solar Cell
Size 2.0 m x 6.0 m x 2.8 m (Width x Long x Height)/ D.C.Motor, 48V, 2 sets/ Battery 3 set (8 e.a.) 6V =48V/225AH / Range 60 Km (Bangkok Area)
Weight 2 TON / Load 1.5 TON (Total Weight 3.5 TON)